Pricing
Our pricing is based on the cost of the print. Your total will included the cost of the garment and the print or prints from the graphic below. Print prices are per location. We offer print on all kinds of garments from shirts to hoodies and even raglans.
Notice! Our DTG is temporarily down. We will update you as soon as it is fixed.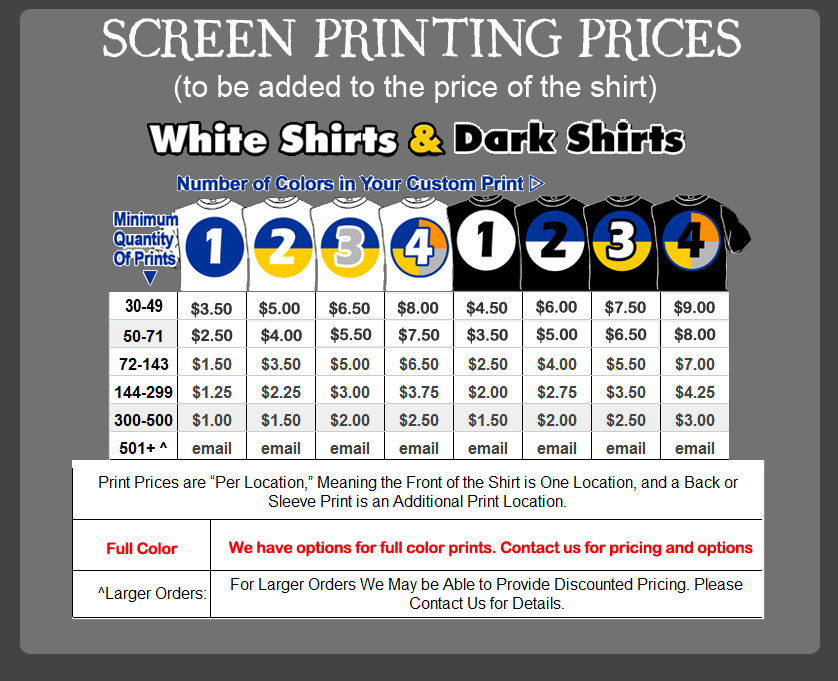 ARTWORK
Our designers work with both Mac and PC, and the ordering process is the easiest if you supply us the artwork in Adobe Photoshop, Adobe Illustrator, or Inkscape SVG file. If your artwork is in a JPEG, PDF, or other format, don't worry, we will work with you through the design process to make sure the design matches your vision
If you do not have artwork or it needs to be redrawn due to poor quality we offer help at a fee of $50.

BLANK SHIRTS
We offer a wide variety brands and styles, ranging from standard, heavy cotton shirts to premium ring spun cotton and poly/cotton blends. We break down the shirts that we offer into 3 basic categories. Roughly estimating the cost of your project is as simple as picking which shirt you want to use and adding the cost of printing!
Good: $2.50 – $4.00 per shirt- Standard 100% Cotton T-shirt (Hanes, Anvil, Gildan).
Better: $4.00 – $5.50 per shirt- Fashion Fit, Ringspun 100% Cotton T-shirt (Bella+Canvas, Next Level).
Best: $5.50+ per shirt – (American Apparel, Alternative Apparel, Next Level and Bella+Canvas Blends).
We are committed
to being as transparent as possible with our pricing to save you the hassle of working back and forth through a sales process. We proudly advertise our printing prices to make it easy for you to know that you are getting the best value for your money.
Fees
Trying to simplify and keep your cost down we do not add setup fees or screen fees. Pricing is strictly on a "per print" basis. But there are some fees that can be added if some extra services are asked for. For example you may pay for shipping or artwork if you need it redrawn or vectored. Feel free to check out our frequently asked questions page for more information,
OTHER IMPORTANT INFO
Typical Turnaround time is 5-10 business days. A rush order fee may be applied if you need your order sooner.

Dark garments may require an underbase. Underbases are priced as an additional color.
Our largest dimension is 12.5 x 15″ H inches for standard textile printing.
Color swaps are $25 each, per screen needed.
We check your order quantities multiple times before the shirts leave the warehouse. So we request you sign off after reviewing your order.